Share app
This is the area where we will guide you to share your app
browse apps

Figure 1. share app
The menu shows the instances that are running (we have started them beforehand using swarmlab hybrid)
Now we can choose the ones we want to share.
share app
To share an app we use the share button
Figure 3. browsing network
Underneath the share we can see all the networks we are connected to
We now choose the one over which we would like to share the app.
share info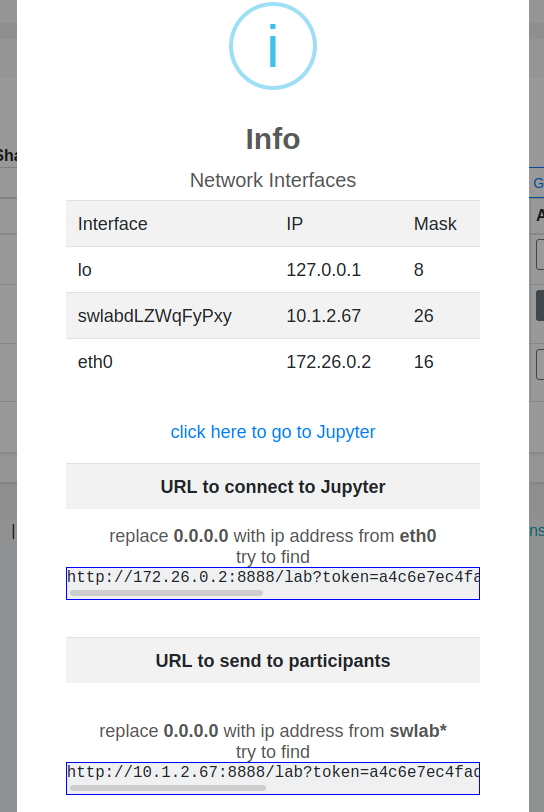 Figure 5. share info
the info shows information about the shared app
the "public" that we can share to other users

the private url we can use to connect ourselves
| | |
| --- | --- |
| | for example we can see that we are using eth0 and we can also see the ip address. |
http://172.26.0.2:8888/lab?token=819cfaa82577cc7ec49fec0a39f57bc12e37883119237cf3
The following is the link the users have to use.
http://10.1.2.67:8888/lab?token=819cfaa82577cc7ec49fec0a39f57bc12e37883119237cf3
undo share
To stop sharing we can use the Default button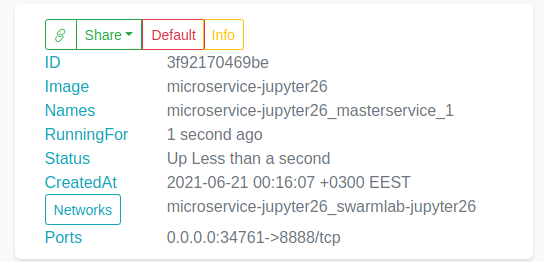 Figure 6. share default info
| | |
| --- | --- |
| | we can again check the status using the shared, when shared, the network button will appear. |